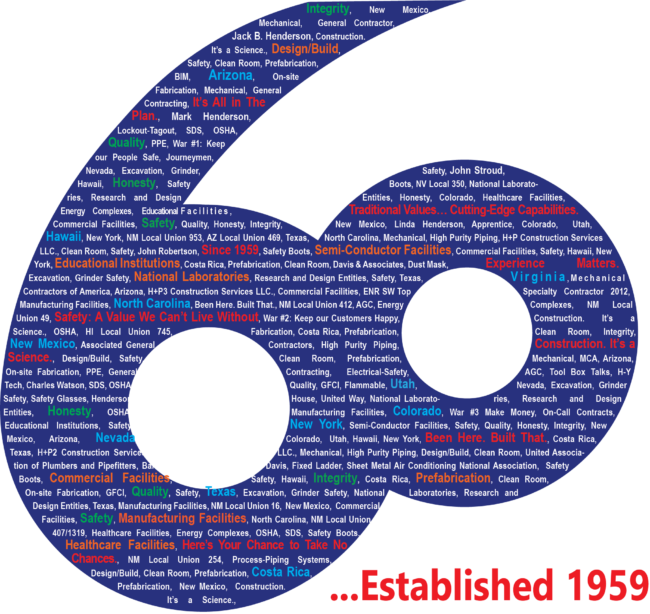 Construction. It's a Science.
JB Henderson Construction Inc. has plenty to celebrate. On May 5th, the company commemorates its 60th year in business.
Starting off with a humble beginning Jack and Joan Henderson put a second mortgage on a small home that provided the funds to start Jack B. Henderson Const. Co. (The Company). The company has grown exponentially over the past 60 years in terms of customers, revenue, capacities, state of operations, and employees," said JB Henderson President John M. Stroud. "JBH currently has active contracts in New Mexico, Arizona, Nevada, Texas, Hawaii and Virginia."
The company credits it skilled employees and process-based project management for its success. JBH's motto "Construction. It's a Science," exemplifies its belief that construction is a highly skilled profession, requiring extensive education and training followed by precise installation that never compromises safety and quality.
The company, based out of Albuquerque, has an extensive list of customers including national laboratories, universities, hospitals, and microelectronic customers.
"Each customer requires a variety of skills and awareness, and all require a strict adherence to high quality, security and safety standards," said Mark Henderson, JBH CEO.  
When JBH began in 1959, it served only as a general contractor, adding mechanical and piping capabilities in 1967. Today, JBH capabilities include general contracting, process-piping, mechanical, BIM, and Pipe and Sheet Metal fabrication. Additionally, JBH maintains specialized quality designations held by only a handful of companies nationally.
Though their capabilities have expanded, a constant in their 60 year history is their dedication to customer service.
 "This project could be labeled as a design-build, and the direction we were going to take was unclear at times. (JBH) had some great solutions to my concerns and we gained additional needed square footage … I had problems and the guys at JB Henderson had solutions. I would like to say thank you to the entire team at JBH for the continued professionalism and dedication I see every time I call them for any project, large or small," said a recent JBH customer.
Highlights of the extensive JBH resume include general office space as well as specialty systems supporting research and development for federal facilities, cutting-edge process-piping systems for the semi-conductor industry, modern hospital spaces, specialized energy complexes, and long-standing contracts with local-government entities supporting the K-12 education market.
Though the work is paramount, JBH is most proud of the opportunity it has to employ skilled craftsmen and women, providing a critical economic engine for close to 900 employees so far in 2019, the most the company has ever seen. As JBH continues to grow, its leaders will maintain a fierce grip on its culture and ensure that its core values of Safety, Quality, Honesty and Integrity are maintained by every employee, on each project performed.
To celebrate 60 years, JBH has created limited edition swag and will host a summer ballpark night for employees and their families at each area office in New Mexico, Arizona, and Nevada.