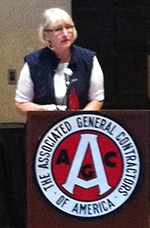 The Associated General Contractors NM Building Branch named JBH EH&S Manager Barbara Spitz Committee Chair of the Year for her work on the AGC Safety Committee, a group that meets regularly to assess and improve construction safety practices throughout the industry. The mission of the AGC-NM Building Branch is to provide a forum through which members, with staff, can: (1) Collectively solve problems we all face, and (2) Develop programs designed to improve the well-being of the construction profession, the communities in which members live, and the profitability of our own businesses. In so doing, the ethical standards embodied in the phrase, "Skill, Integrity, and Responsibility" are promoted and followed.
Barbara received her award at the AGC-NM Building Branch's annual Appreciation Luncheon held December 3rd, 2012 at the Hotel Andaluz in downtown Albuquerque.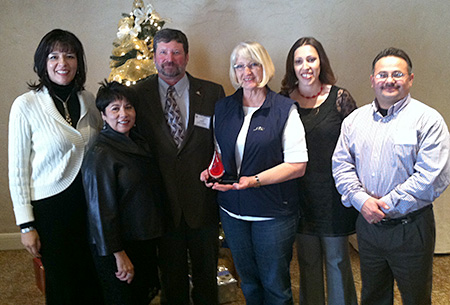 (L to R) JBH VP, Corporate Support Maria Guy, AGC-NM CEO Vicki Mora, AGC 2012 Board President Larry Franken, JBH EH&S Manager Barbara Spitz, JBH Marketing Admin Melissa Gomez, JBH Project Manager Chris Romero.